Planning something to beat the hot rays of sun in these summers?

Willing to explore the abandoned beauty of India?
If yes, then these summers escape from the sunny weather and find relief in the blissful beauty of India. The beautiful country is blessed with hills, beaches, green forests, mountains, and other places to visit in summers. Summer vacations are around the corner and most of us are engaged in planning something for a memorable summer with friends and families. Here are some of the best places to visit in India in summer vacations 
Enjoy trekking in Ladakh
image source:- https://k6u8v6y8.stackpathcdn.com/blog/wp-content/uploads/2017/03/popular-short-treks-ladakh.png
Beautiful hill station set an appealing contrast to the blue lakes and skies of Ladakh is the best place to visit in summers. Ladakh is famous for Buddhist monasteries of India like Thiksey Monastery that add vivacious shade to the beauty of the town. Ladakh is an incomparable paradise with clear skies, stunning views, etc. The estimated temperature of Ladakh during summers is approximately 20-300c.
Things to do 
Experience the sheer calmness beside the emerald Pangong Tso Lake.

Enjoy camel rides through the sand dunes of Nubra Valley

Trek the rocky routes of Ladakh on an Enfield.
Explore the serenity of Ranikhet
image source:- https://k6u8v6y8.stackpathcdn.com/blog/wp-content/uploads/2016/02/Visiting-Ranikhet.jpg
The mesmerizing hill town in Uttrakhand, Ranikhet is well-known as the Queen's Meadow. The town is blessed with serene and beautiful hill station built up by British. It is believed that a lovely Indian queen visited here and mesmerized by the pristine beauty of Ranikhet. Breath-taking natural surroundings, 9-hole golf course, rich orchards, and revered shrines are all about Ranikhet.
Things to do 
Experience the serenity beside Bhalu Dam.

Get engaged in the adventurous activities of Ranikhet like paragliding and biking.

Visit the religious shrines like Jhula Devi Temple and Mankameshwar Temple.
Buddhist monasteries at Gangtok 
image source:-  https://images.mapsofindia.com/india-tour/2014/05/enchey-monastery-gangtok.jpg
One of the most beautiful places to visit in India during summers is Gangtok. It is the capital of Sikkim which is blessed with the awe-inspiring beauty of Gangtok that includes Himalayan peaks, alluring waterfalls, entrancing Buddhist monasteries, lofty Himalayan peaks, serene alpine lakes, etc. The destination is ideal for holiday seeker, adventure or nature lovers, honeymooners, etc.
Things to do 
Trek to Chhangu Lake and Tsomgo Lakes.

The mesmerizing flora and fauna of the city will leave you amazed.

Explore the Rumtek Monastery that displays ethos and sanity of Buddhism.

Discover the exotic wildlife species of Gangtok in a zoological park.
Admire the magical seven sisters at Cherrapunji 
image source:- https://images.thrillophilia.com/image/upload/s–yrOtBeZ—/c_fill,f_auto,fl_strip_profile,h_775,q_auto,w_1600/v1/images/photos/000/133/562/original/1538563705_shutterstock_1107119885.jpg.jpg?1538563705
One of the most unique destinations to visit in summer vacations in India, Cherrapunji is blessed with stunning beautiful land which is covered with thick clouds and mists. The best thing about Cheerapunji is it receives a lot of rainfall and especially during monsoon it observes the pleasant climate throughout the day.
Things to do 
Visit Double Decker Living Root Bridge, UNESCO's World Heritage Site.

Admire the serene beauty of seven sister waterfalls and Nohkalikai Falls.

Witness the exclusivity of Mawsmai Cave.
Bountiful greenery of Lonavala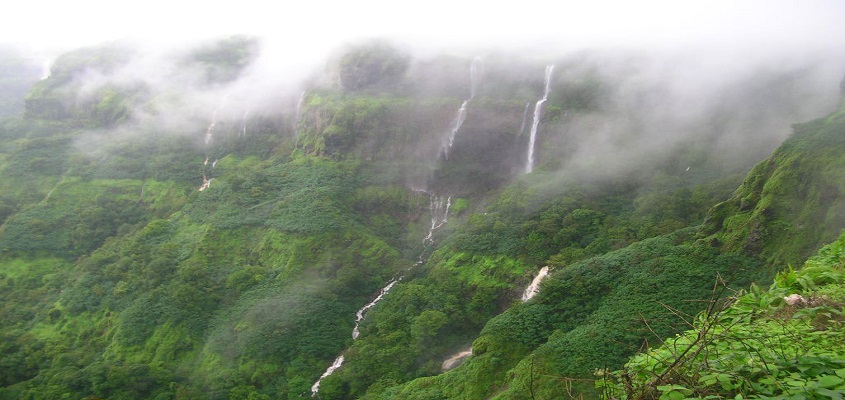 image source:- http://www.diwalibaug.com/img/lonavala.jpg
Located near Mumbai, Lonavala is one of the best options for enjoying summers in India. The serene beauty and greenery of Lonavala are perfect to rejoice in the magical surroundings of Lonavala. You can step out and explore the caves and click perfect pictures with a stunning backdrop. Get escape from the droning life, Lonavala offers innumerable adventurous activities to do.
Things to do 
Unwind the history while visiting the remarkable monuments like Karla Caves, Bhaja Caves, Korigad Fort.

Explore the wildlife of Lonavala at Rajmachi Wildlife Sanctuary.

Enjoy overnight camping in the pleasant surroundings of Lonavala.
Hopefully, these destinations will make your summer vacations the most memorable and joyful. Get your bags packed and book your India tour with the best travel operator in India.